1. Inserting Installation CD
Insert your RaceMate installation CD into your CD ROM drive. The setup program of RaceMate will be run automatically. If the Autorun feature of your CD ROM drive does not work, please double-click on the setup file in the CD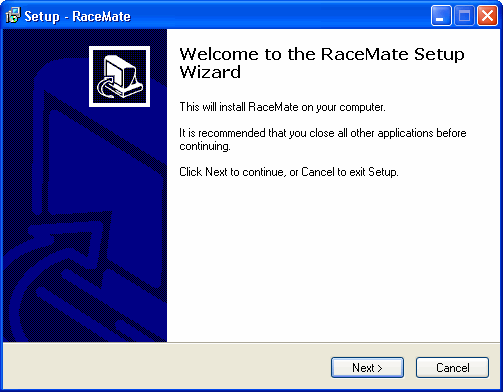 Click on the [Next] button. The Read Me File dialogue will appear. The dialog shows important information about the RaceMate software including the software license agreement. Please scroll up and down to read the message carefully in the message box. If the License Agreement is okay for you, please choose [I accept the agreement] and click on [Next].
2. Choosing Software Folder
The following folder selection screen will appear. Normally, we will accept the folder suggested by the Setup Program. If you want to install RaceMate into another folder, click on [Browse] to choose a folder. RaceMate may update its program files while normal data update. Therefore it must be installed into a folder with "modify" right. The folder "Program Files" of Windows Vista or above have been made read-only. Therefore please don't install RaceMate into this folder.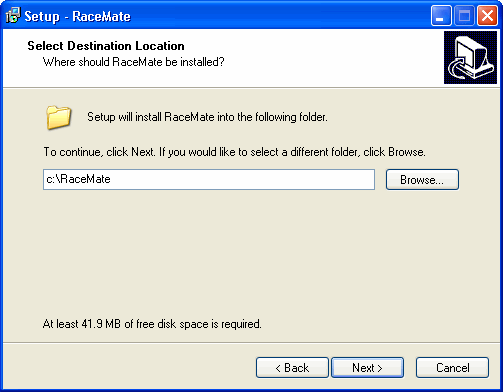 After your have clicked on the [Next] button, the Setup Program will confirm with you the destination location. If the path is correct, click on the [Install] button. You will see the following screen.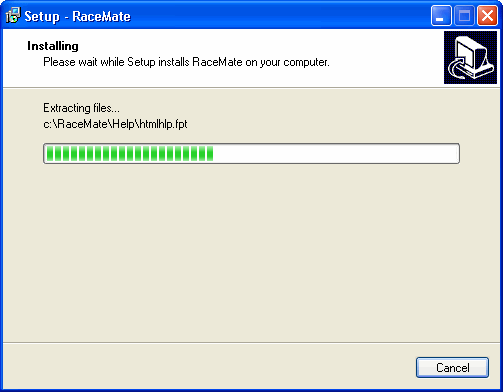 Installation Completes
After the file transferring process completes, you will see the dialogue box as shown in the following figure. Please push the [Finish] button to start RaceMate. After RaceMate is started, please follow the steps in next section to register you software and create the database of RaceMate.
If there existed some system files that were out-of-date and updated by the setup program, you will be prompted to restart your computer and the above screen will not be shown. After your computer is restarted, please click on the RaceMate icon on you desktop, which was created by the setup program, to start RaceMate.
---
Page url: http://www.racematenet.com/english/help/index.html?installing_racemate.htm