Exporting Data to Excel Files
In RaceMate all data grids are exportable to Excel. You may right click on the left top corner of a grid on any data form and choose [Export Table] to export the content of the grid to an Excel file or a text file.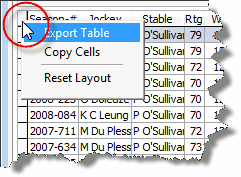 Copying All Cells to Clipboard
You may choose [Copy Cells] of the above menu to copy the whole table into the Windows clipboard. The data copied can be pasted into other applications.
Advance Data Export
You may create a view containing all the data you want to export. Click on the left-top corner of the grid to export all the data in the view. Besides built-in columns you may create complicated columns using MCL functions for the export. Both "Comprehensive Statistics and Record Query" (as well as the History/Stat page of Horse, Jockey, Stable forms) or "Starter" views for such export action. Generally speaking the former one may be simpler for most cases.
---
Page url: http://www.racematenet.com/english/help/index.html?exporting_contents_of_grids_in_forms.htm