There are 2 types of reports:
| | |
| --- | --- |
| 1. | Built-in reports (a dot in front of the report title) |
You are not allowed to modify a built-in report, but you can create user-defined reports for the same view.
Click on the [Print] button or select [Print] from the [File] menu. The click on [New] to create a new report or [Modify] to modify the existing report. You will then see the following form. The function of each part is as follows.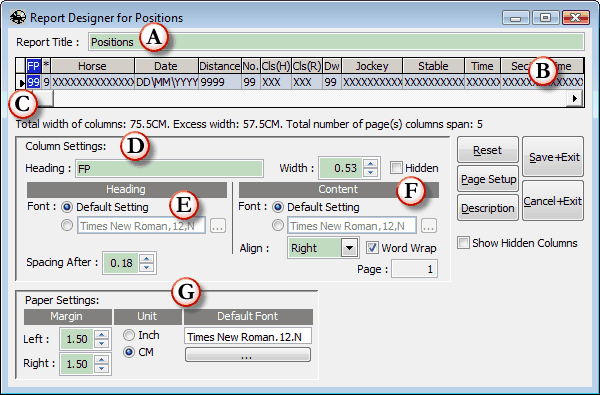 A. Report Title
The title of the report. You can modify it.
B. Preview of Report Columns
This area show how the data are shown in the report. Resize the columns with the mouse will directly affect how the report prints.
C. Column Width Info Bar
Shows total number of pages and other relevant information.
D. Column Settings
Shows the name and width of the highlighted column. You can make a column disappear from the report by checking the [Hidden] checkbox.
E. Heading
Font for column heading and space after column (between this and next columns)
F. Content
Font, word wrap, and alignment of the column. The number in the [Page] box shows on which page the column will be. Normally there will only be one page.
G. Paper Settings
Margins of the report and default fonts.
You will find the following buttons on the form.
Reset
Cancel all changes and restore what you see when this form is open.
Page Setup
Define attributes of print out, e.g, paper size, printer, etc.
Description
Report description
Save+Exit
Save change and close the form
Cancel+Exit
Cancel change and close the form
---
Page url: http://www.racematenet.com/english/help/index.html?report_designer.htm