When RaceMate starts, the Race Calendar will automatically be shown. To manually open the Race Calendar, you may
| | |
| --- | --- |
| 1. | click on the [Calendar] button of the RaceMate toolbar, or |
| | |
| --- | --- |
| 2. | select [Race Calendar] from the data menu |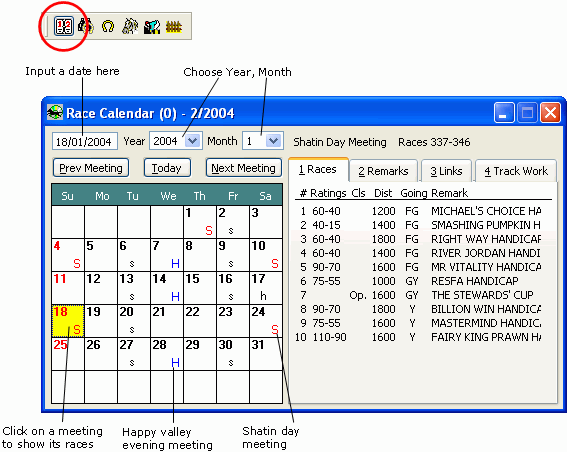 Calendar Pane
On the left of the calendar form, a calendar marked with race meetings is show. You may jump to a calendar day via one of the following ways:
| | |
| --- | --- |
| • | Show a month by using the Month and Day dropdowns at the top of the form. Then click on a day |
| | |
| --- | --- |
| • | Click on the [Previous Meeting], [Next Meetings], and [Today] buttons |
| | |
| --- | --- |
| • | Enter directly a date into the left-top date box |
After you have selected a day, the information about the day will be show on the pages on the right-hand side of the form. You will see the following symbols on the calendar:
Symbol

HK Editions

H

Happy Valley meeting

Red for day meetings, Blue for evening meetings

S

Shatin meeting

D

/

N

/

h

Happy Valley Barrier Trials

s

Shatin Barrier Trials

*

/
Races Page
The first page on the right side lists races of the day highlighted on the calendar. You may click on a race to open the Race Data form to show the data about the race. If there is no meeting on the day, the page will show a message "No Race Today".
Remarks Page
The Remarks page shows the remarks from the Jockey Club for the day, if any. You may enter your own remarks in the UserRemarks edit box on the page.
Links Page
The Links page shows a set of autolinks for opening the multimedia resources, including videos and photos, of the Jockey Clubs. You may add your own multimedia resource links into the page as well. (See Autolinks of the Multimedia Resources section for details)
Track Work Page
You may click on the [List Track Work Horses] button at the bottom of the page to show all track work records of the day. The Track Work page also shows the barrier trials of the day, if any. You may click on a barrier trial to view the details about the trial on the Barrier Trial Form.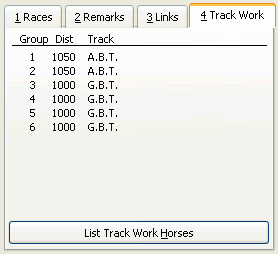 ---
Page url: http://www.racematenet.com/english/help/index.html?race_calendar_form.htm