Choose [Options and System Information] from the [Tools] menu to open the following form for viewing and define system settings: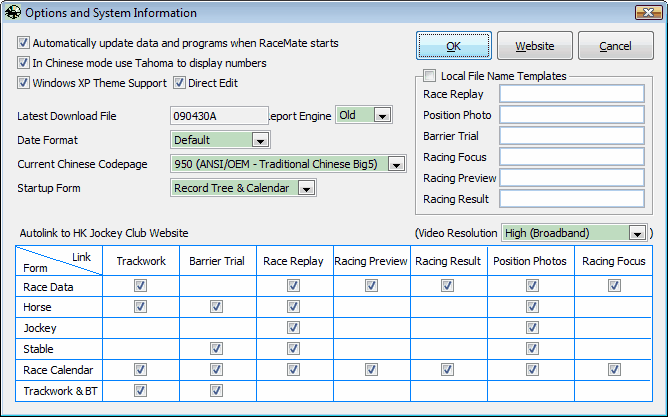 Phone No. of RaceMate Data Server
If you have selected Dial-Up Connection as your download method, RaceMate will dial the number in this box to connect to RaceMate's data server. If the location where your RaceMate is installed requires special phone number prefix or you need to add an international call number, here is the place to put the extra numbers.
Latest Download File
This field shows the name of the latest data update file that you downloaded and processed.
Download Settings
Open the DownloadSettings form.
Date Format
You may choose a date format here. Available options are listed in the following table.
| | | |
| --- | --- | --- |
| Format | Description | Example |
| DD/MM/YYYY | Day/Month/Year | 26/03/2004 |
| MM/DD/YYYY | Month/Day/Year | 03/26/2004 |
| YYYY/MM/DD | Year/Month/Day | 2004/03/26 |
| Default | Follow the format settings Windows Control Panel | |
Current Chinese Codepage
RaceMate will automatically detect the codepage of your Windows and properly display Chinese characters in either Traditional or Simplified characters. However, if you are using an external Chinese characters display system such as RichWin and China Star, you may need to manually set your current codepage here.
Windows XP Theme Support
If you are using Windows XP, you may turn off or turn on Windows XP Theme Support here.
Direct Edit
If you select this option, you can input data into the editing controls without first clicking on the [Edit] button of the toolbar. See Editing Data for details.
Autolinks to HK Jockey Club Website
RaceMate will put hyperlinks to the multimedia resources of the HK Jockey Club Website into records of Race, Horse, Jockey, Stable and Track Work. If you are not interested in some of the links and would like to remove them from the record forms, you may deselect them here.
Connection Speed
If you are using a broadband Internet connection, you should choose [Broadband Connection] here to connect to the high quality multimedia video files of the HK Jockey Club. Otherwise, you should choose [56K Dial-Up Connection] to connect to a trimmed-down version of the files.
---
Page url: http://www.racematenet.com/english/help/index.html?options_and_system_information.htm