Starter Views is the first page of the Race Data Form. At the top of the Race Data form, there are a couple of lines showing some basic information of the race. Click on the leftmost button on this line to open the Race Calendar. Click on the small button with a down arrow to open the Race Search form.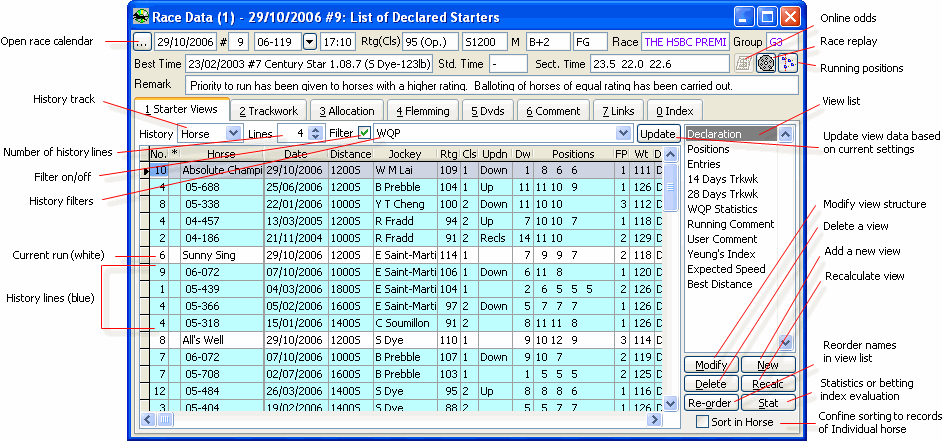 List Starter Views
You may select a view by clicking on the view list on the right of the page. RaceMate predefines a set of built-in views to present different information including statistics. You may add your own views by clicking on the new button. There is no limit on the number of user-defined views.
Showing Past Records
Select a "history track" in the "History" dropdown list at the top of the Starter Views page. Select number of past record lines by changing the "Lines" number in the spinner next to the dropdown. You may optionally set a filter by pulling down the filter list next to the spinner. Then click on the [Update] button show past records in the view. The following past record tracks are available:
| | |
| --- | --- |
| • | Horse: show past records of each horse |
| | |
| --- | --- |
| • | Jockey: show past records of each jockey |
| | |
| --- | --- |
| • | Stable: show past records of each stable |
Filter On/Off
The filter set by using the filter dropdown list can temporarily turn off by unchecking the [Filter] checkbox and later turn it on again by checking the box again.
Useful Shortcuts
| | |
| --- | --- |
| • | 0/999 Toggle: Double-click on the "Past Records Lines" spinner to toggle number of history lines between 0 and 999 |
| | |
| --- | --- |
| • | 0/n Toggle: Double-click on the [Lines] label on the left of the spinner to toggle between showing past records and hiding past records. Say, you have set the number of past record lines to 5 and want to temporarily hide the past record lines. You can simply double-click on the [Lines] label to hide all past records. Later when you want to show the 5 history lines again, just double-click again on the label, the 5 history lines will be shown again. |
Sorting
You can order rows of a view based on the data of a column by clicking on the column header. Click once to do an ascending sort. Click once again to change it to descending order. Normally sorting is done over all history rows. If you want to sort records of individual horses, you may check the [Sort in Horse] checkbox.
Recalculating View
Click on the [Recalc] button to recalculate and update the data of a view. However filters will not be reevaluated. If you want to filter the records again, you may hold down the [Shift] key before clicking on the [Recalc] button.
Statistical Views and Betting Index
There are two special types of views which will make use of the [Stat] button.
| | |
| --- | --- |
| • | Statistical Views: Views created purely for doing statistics are called "statistical views" or statistical model. Statistical results of a statistical view are shown by clicking on the [Stat] button. |
| | |
| --- | --- |
| • | Betting Index Views: A betting index view consists of a betting index column, which is a calculated column based on values of other columns of the same view. Betting indexes are constructed to predict the winning chance of starters. The validity or predictability of betting indexes can be evaluated by clicking on the [Stat] button. |
---
Page url: http://www.racematenet.com/english/help/index.html?starter_view_page_.htm