Showing the Filters
Follow the steps shown in previous section, open the Filters Editor to modify the filter definitions, add or remove filters. You may open the Filter Editor via one of the following ways:
| | |
| --- | --- |
| 1. | Click on the [Filter] button of the RaceMate toolbar, or |
| | |
| --- | --- |
| 2. | Choose [Filter] from the [Record] menu, or |
| | |
| --- | --- |
| 3. | Select [Create compound/custom filters or manage filter library] from the filter list. |
Selecting Predefined Filters
On the Filter Editor click on the [Select from Library] button to show the View Filters Library. Select a filter from the list and click on [Apply] as one of your filter items.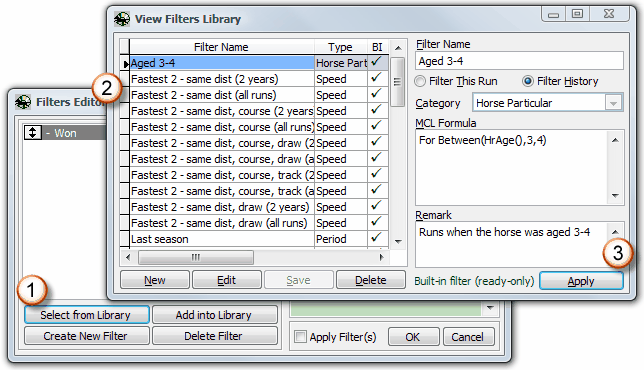 Creating a Custom Filter
Click on the [Create New Filter] button on the Filter Editor. You may then create your own filter by entering an MCL formula.
Adding Your Custom Filter into Library
Once you created a custom filter, you can click on the [Add into Library] button to add it into the Filter Library.
Removing a Filter from the Filter Group
Click on the [Delete Filter] button to remove the highlighted filter.
Choosing between [Filter This Run (*)] and [Filter History]
Choose [Filter This Run (*)] if you are going to filter starters of the current race
---
Page url: http://www.racematenet.com/english/help/index.html?filter_editor.htm